Re: Which Bach Invention should I learn?
Jayesskerr wrote:
Lol Jeffery Scott Kerr = JS Kerr = Jayesskerr


I just now got that J S Kerr was "Jay Ess Kerr" to make "Jayesskerr." I've been mispronouncing it in my head for as long as I've been here, which is 2 years in August. I've been thinking "Jays-kerr" (2 syllables), when it's actually 3 syllables. Funny. I think that stuff is interesting as a Word Nerd. And considering we've done 5 or so little musical things together, you'd think I'd know how to pronounce your name!
Paigan ryhmes with "Reagan," by the way. But I pronounce the "zero" at the end, and it's "Pay-gun Zero" as in "Patient Zero." Silly usernames! I've learned a lot of other people's little tricky user names: (earthgene = NASA Gene, piratebruce is Bruce the Shipping God, dubyacee is Walter C., Lee Vatip is Steve Adelson, BSHARP is Emmett Chapman, etc.) I'm crappy at remembering who is actually Larry and not Bob (there's really only one Bob).... I am hijacking this fine Bach thread and I do apologize.
I enjoyed Scott's video immensely, and reading about Claire's progression. The note vocalization is an excellent way to get the notes, by the way. I'm going back over that whole video again, Scott!
I found myself, like Claire, able to play Bach on the piano, but then struggle to translate that over immediately to Stick. I haven't made that little mental "switch flip" yet, but I have barely begun to work on it. Now that I have a Stick in mirrored fourths, I plan to start some easy-peazy Bach, same as I started on piano. You two are swimming way over my head, but that's awesome--I can see where I'll be if I put in the time that the two of you are putting in.
Sight reading (IMHO) is really no different from any other kind of reading. I studied Japanese hiragana and katakana writing syllabalaries (Japanese uses syllables rather than an alphabet as the basic structure of their language). Those two writing "alphabets" are then mixed with kanji taken from old Chinese symbols, and then those three writing systems as mixed with the Roman alphabet. One poster in a Japanese train system will have katakana (for foreign words), hiragana (for word endings and parts of speech signifiers), kanji for the basic pictogram idea, and then some random English or French (Better living you!), or just the English alphabet used to spell out Japanese words because it looks cool. It's the most complicated writing system known to man.
Yet, my Japanese 7th grade students couldn't glance at the sign without instantly reading it. You, of course, instantly read the Romanized English: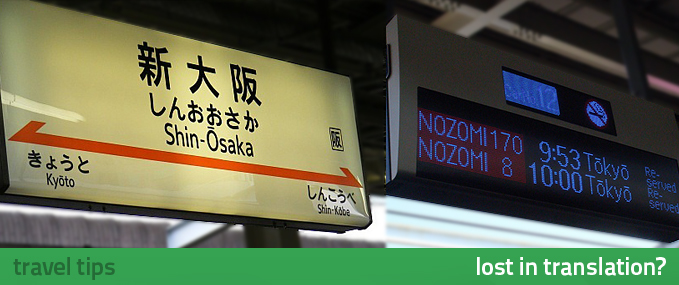 Here's the bottom line, from a long segue about linguistics and Japan:
Reading music is just like reading anything: time spent doing it produces fluency.
You are unable to not read this line in English:
STOP AND DROP
In time, you are unable to not read this line:
Or this line:
And soon, Rachmaninoff!

(Or beginner, easy Bach, in my case!)
Please continue to share your Bach progress, Claire and Scott and excellent thread!
(And where's Rodrigo [bachdois!] with the Bach? And madmonk! And others! Greg!)
Bach Lover, but Baby Reader
Paigan Zero (Steve #6)